The 
systematic, time-saving writing program for students in years 1⁠–⁠6

, where students:
like writing,
learn the skills they need to be effective and confident writers,
make clear and measurable progress.
How does Writing Legends help students learn to write?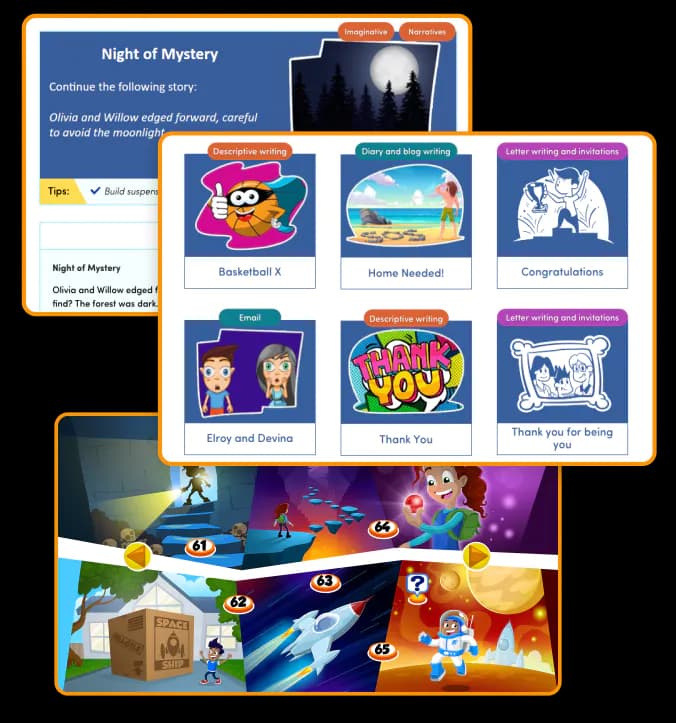 Full units of work are designed to develop skills in a specific text type for years 1⁠–⁠6
Writing Legends simplifies the teaching of writing by providing comprehensive units of work that seamlessly integrate into classroom instruction. Teachers can effectively model how texts work using these units, while students can engage in independent practice. Each unit consists of five lessons that progressively enhance skills at the word, sentence, grammar and text levels. Additionally, printable units are available to extend the learning experience beyond online activities.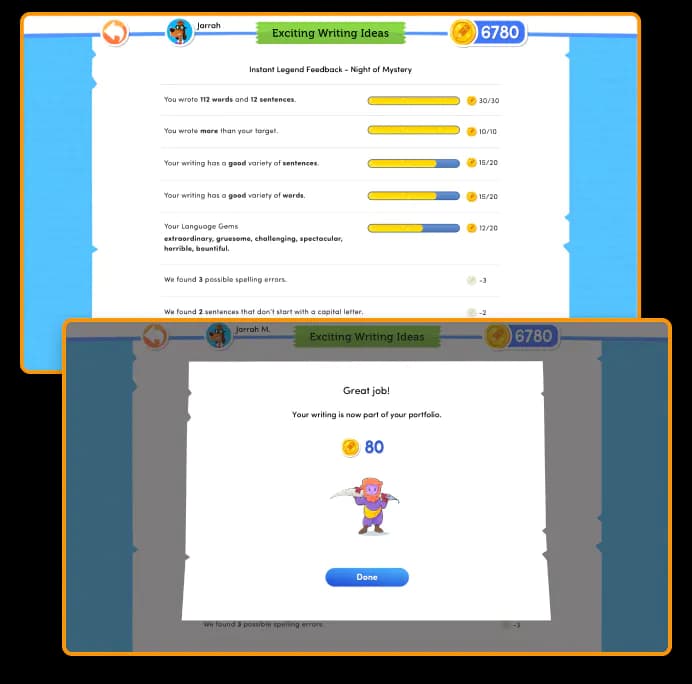 Access to a wide range of writing prompts with built‑in feedback
Every writing task comes with multiple levels of support. Upon completing a task, students receive instant feedback on how to become a Writing Legend through the Instant Legend Feedback feature. This motivating activity highlights the students' strengths and offers guidance on improving their writing. Rewards are also given for addressing spelling mistakes, capitalisation errors, run‑on sentences and incorporating more interesting vocabulary and sentences.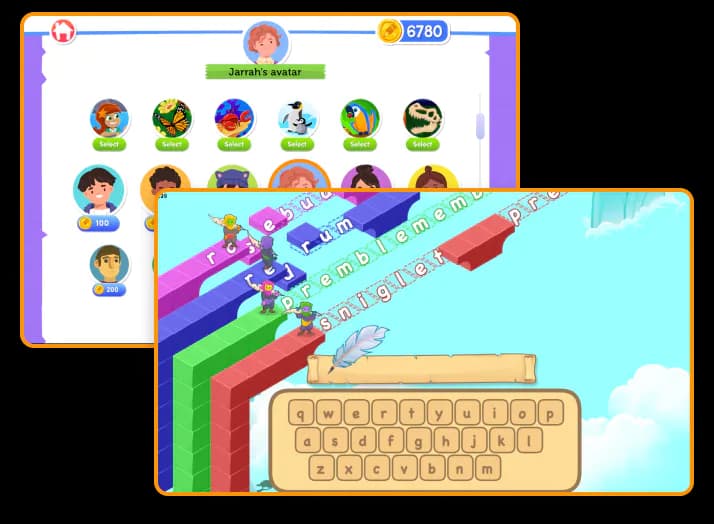 Motivation and engagement at incredible levels!
Students can create their own reward Realms, enjoy a typing game and participate in the Annual Story‑a‑thon contest.

Developed by a highly experienced team of teachers, educational writers, animators and web developers—the same team that created Reading Eggs.
Writing Legends is an excellent tool for students to reinforce their classroom learning at home.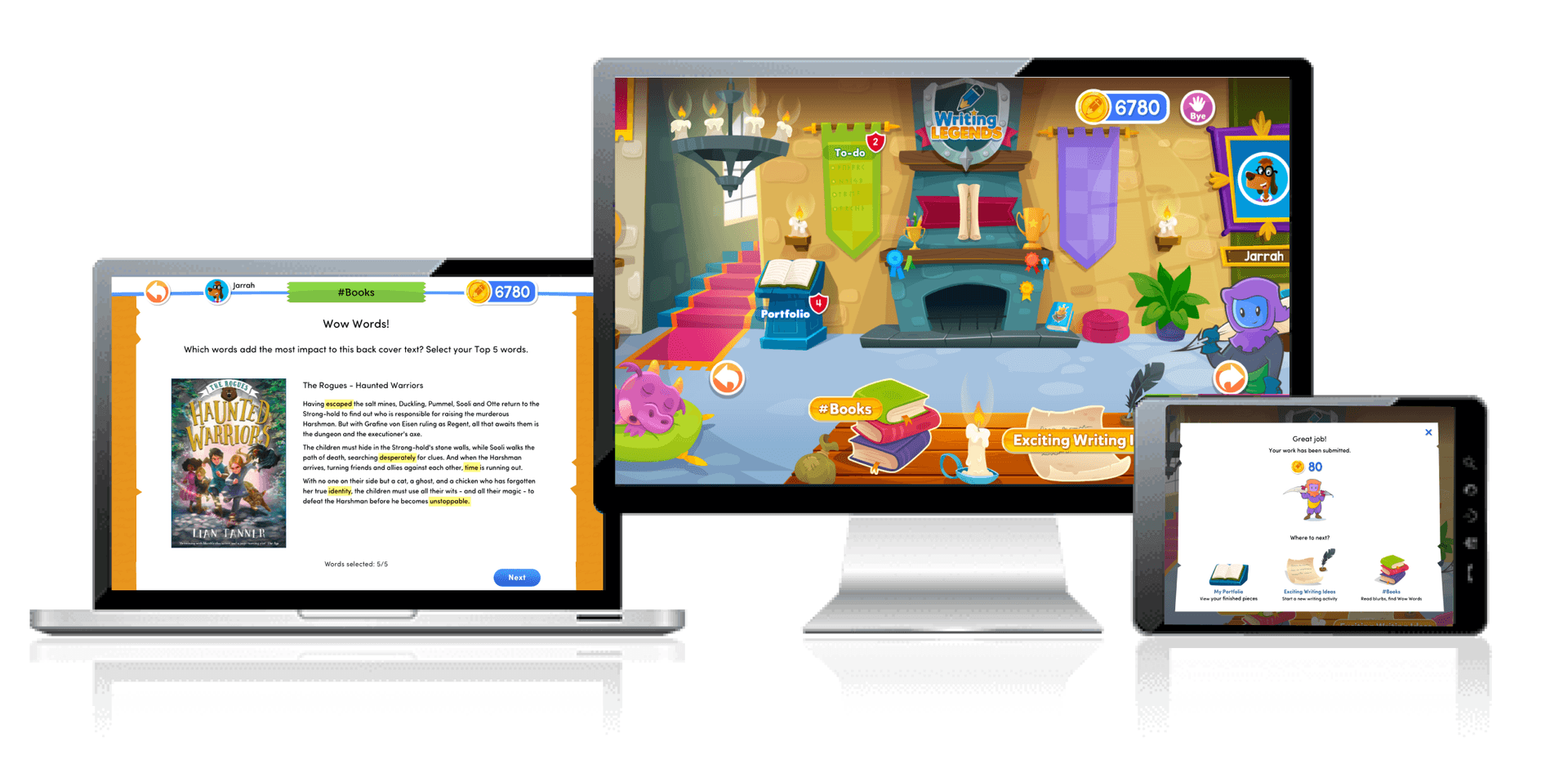 Students can access Writing Legends at school, at home and on various devices. It makes learning possible anywhere.
You can use Writing Legends to set homework and feel confident that students will learn key concepts in depth.
Why teachers love Writing Legends
Structured, time-saving lessons: your students can enjoy structured writing lessons that build on each other, gradually increasing in complexity as they progress through the grades.
Varied writing genres: students are introduced to a variety of writing genres, including narrative, persuasive, descriptive and informational report writing, so that they develop skills in each area.
Instructional strategies: target the diverse learning needs of students with a variety of instructional strategies, such as modelling, guided practice, mentor texts and independent practice.
Instant feedback: students receive important feedback they need on their writing. Teachers can also provide their own feedback by highlighting areas for improvement and offering specific suggestions for how to improve.
Revision and editing: students learn how to revise their work for content, organisation and grammar. Writing Legends emphasises the importance of revision and editing in the writing process.
Technology integration: enhance students' writing skills and prepare them for the demands of the digital age.
High engagement: students are excited to play and learn to write, with highly motivating activities and rewards that boost their confidence!
What results can you expect to see in your classroom?
Improved writing skills: Students demonstrate increased fluency, confidence and reduced errors in their writing.
Elimination of common mistakes: Students overcome issues such as fragments, run-on sentences, missing capital letters, repetitive sentence structures, uninteresting vocabulary and short, unstructured responses.
Enhanced understanding of the reading-writing connection: Students develop the ability to create written responses and reflections on their reading, while also thinking like authors to produce engaging texts that captivate their audience.
Writing becomes a focal point of success in your classroom and school: Students embrace writing, viewing themselves as writers and willingly experiment with diverse sentence structures, ultimately pushing themselves to become better writers.
Assess student writing with ease
Assessing student writing can be time-consuming and challenging. Writing Legends seamlessly complements 3P Learning's Brightpath Writing formative assessment program, offering a comprehensive teaching, learning and assessment package to enhance writing across the entire school.
Writing Legends — it's time to make writing amazing!
When you choose Writing Legends, you can trust that it's been designed and developed by the same dedicated team who understand the needs of both teachers and students. This means you can expect an effective, engaging and easy‑to‑use writing program.
Writing Legends covers everything from text types and genre to grammar, mechanics and sentence writing. Integrated units of work provide a comprehensive learning experience, while models, scaffolds and mentor texts improve structure, length and complexity .
The program uses the same research‑based techniques, pedagogical expertise and curriculum alignment that's made Reading Eggs a trusted resource in countless classrooms worldwide. With Writing Legends, you can foster your students' writing skills, nurturing them to become creative and confident writers.